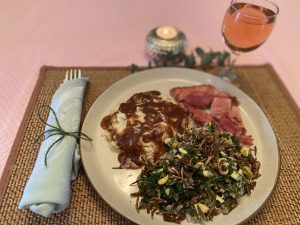 Wild Rice, Kale and Apple Salad byMetis Chef and Culinary Consultant Jenni Lessard
Yield 6-8 servings. This salad is bursting with apples in three forms and makes a great accompaniment to an Easter dinner. Wild rice adds nutrition and texture (not to mention flavour)!
Ingredients
For the Salad:
1 ½ cups wild rice, uncooked
6 cups water
½ cup red onion, diced
1 large bunch kale
1 Tbsp ginger root, minced
½ cup parsley (chopped)
½ cup cilantro (chopped)
1/4 cup pistachios, roughly chopped
½ cup apple, diced
1 Tbsp lemon 
For the Dressing:
1 medium apple, diced
2 cloves, garlic, minced
3 Tbsp olive or canola oil
2 Tbsp apple cider vinegar
1 Tbsp honey or maple syrup
Salt and pepper, to taste
To Make
Step One:
Bring wild rice and water to a boil in a large pot and reduce to a low simmer, covered, about 40 min. Drain any excess water, saving for another use. 
Step Two:
Wash kale and remove the leaves from the stem. Lay leaves on a clean tea towel and roll up to dry the leaves and tenderize them! Remove from towel and tear leaves into bite sized pieces. 
Steph Three:
Combine apple, honey and garlic cloves with 1 Tbsp of the oil in a small oven safe pan. Place in the oven at 375 F approximately 20 min, until garlic is nicely roasted, and apple is tender. Put in a blender along with the rest of the oil and the apple cider vinegar and puree' until smooth. Add salt and pepper to taste and some apple juice or water if too thick. 
Step Four:
Combine wild rice, kale, onion, apple, ginger root, parsley, cilantro and lemon juice in a large bowl. This can be done a day or two ahead. Just before serving, add pistachios and dressing, tossing well to coat.