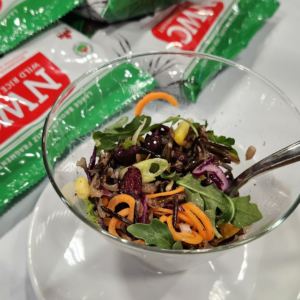 Wild Rice and Three Sisters Salad
This recipe is a colourful and nutritious side dish that highlights the flavour and texture of wild rice alongside the time- honoured Indigenous companion planting trio of corn, beans and squash, also called the three sisters. To turn it into a main course, top with smoked fish and increase the serving size!
Yield: 8 servings, ½ cup each
Ingredients:
2 cups squash, any kind, medium dice
1 cup corn (cut fresh off the cob or frozen)
1 medium onion, diced
2 garlic cloves, minced
1 Tbsp maple syrup
1 tsp salt
1 tsp dried thyme
½ tsp cumin
½ tsp black pepper
2 cups purple cabbage, shredded
2 cups wild rice, cooked
1 can black beans, drained and rinsed
2 Tbsp plus ¼ cup sunflower or canola oil
1/8 cup apple cider vinegar
Juice and zest of one orange
½ cup low bush or regular cranberries, fresh, frozen or dried
1/3 cup roasted, salted and shelled sunflower seeds
Toss squash, corn, onion, garlic, thyme, cumin, salt, pepper, maple syrup and 2 Tbsp of oil in a large bowl. Transfer to a baking sheet and roast at 400 F approximately 20 min until corn and squash have started to brown slightly and squash is tender when pierced with a knife.
Let cool completely, then place back in large bowl with the beans, wild rice, cabbage, cranberries, sunflower seeds, vinegar, remaining oil, orange juice and zest and sunflower seeds. Stir gently to combine. Taste and add more syrup, vinegar, salt or pepper as needed. Keeps well up to three days, refrigerated.