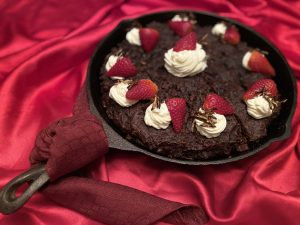 Wild Rice and Cocoa Skillet Cake Recipe by Chef Jenni Lessard
What's not to love about a decadent tasting, easy to whip up cake with the goodness of wild rice baked right in? Apple sauce replaces part of the sugar for a sweet, but not too sweet, Valentine treat!
For the Cake:
½ cup cocoa powder
½ cup unsweetened chocolate chips
2 cups flour
½ tsp salt
1 tsp cinnamon
1 tsp baking powder
1 cup cooked wild rice
1 cup unsweetened apple sauce
3/4 cup brown sugar
2 eggs
1 tsp vanilla
½ cup canola or vegetable oil
To Make:
In a medium bowl, mix flour, cocoa powder, cinnamon, salt, chocolate chips and baking powder.
In a blender or food processor, puree' cooked wild rice and unsweetened apple sauce until smooth. Some bits of wild rice will still be visible. Add eggs, brown sugar, vanilla and oil and pulse another few seconds to combine.
Add wet ingredients to dry ingredients and mix just until combined. Spoon into a greased 10-inch skillet and bake at 350 F for 30-35 minutes, until a toothpick inserted in the centre comes out clean.
For the Candied, Puffed Wild Rice:
¼ cup uncooked wild rice
1 tbsp canola oil
¼ tsp cinnamon
1 Tbsp granulated sugar
To Make:
Heat oil in a pan and add uncooked wild rice, stirring occasionally until all the rice is puffed. Transfer to a bowl and coat with cinnamon and sugar.
Serve warm with ice cream or frozen yogurt or chilled with whipped cream. Sprinkle with candied wild rice and strawberries!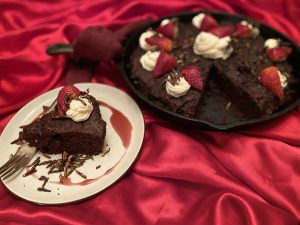 Related Posts: