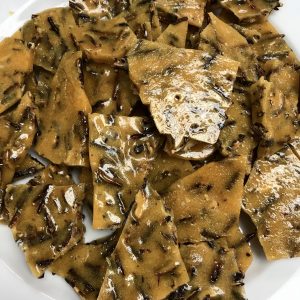 NWC Wild Rice is proud to collaborate with Chef Jenni Lessard.  She's a well-known and award-winning Métis chef, entrepreneur, innovator, and teacher.  We're grateful she has created this unique sweet recipe to share with you.   
This wild rice brittle is perfect for doorstep delivery, to show your love in pandemic times, or to keep all to yourself! 
Instructions: 
Wild Rice Brittle 
Ingredients: 
2 cups granulated (white) sugar 
½ cup light corn syrup 
½ cup water 
6 Tbsp salted butter, cubed 
½ tsp baking soda 
1 ¼ cups puffed wild rice 
To puff the Wild Rice: 
Heat a pan, preferably cast iron, to medium-high. Add uncooked premium NWC Wild Rice in a single layer in the pan. Move pan frequently so rice pops but doesn't burn. This should take about 3 minutes. Remove the rice from the pan.  
To make the Brittle: 
Line a baking sheet with parchment and grease with vegetable oil or cooking spray.  
Combine sugar, corn syrup, and water in a medium saucepan. Bring to a boil then reduce to medium heat until the mixture turns golden brown and registers 340 F on a candy thermometer. This takes 12-15 minutes so have patience! Don't stir, as this will cause crystallization. If you don't have a candy thermometer, fill a glass with ice-cold water and add a drop of the sugar mixture. It will form a ball or glob when at the correct temperature.  
Remove from heat and add the cubed butter and baking soda and stir well to combine. Things will get a bit foamy! Don't worry, it will settle down. Add puffed wild rice.  
Working quickly, spread the mixture onto the prepared pan using a greased spatula or grease fingers if you're really brave. You won't have enough to fill the whole pan so just focus on creating a thin, even, approximately ¼ inch thick layer.  
Let harden at room temperature until completely cooled. Break into pieces and store in an air-tight container or bag. Place parchment between layers to prevent sticking. Save any brittle shards to use as topping for ice cream or cookies!